TÜBİTAK held a launch event in İstanbul for Horizon Europe, the EU's key funding program for research and innovation. The launch marked the transition to Horizon Europe from the predecessor program, Horizon 2020.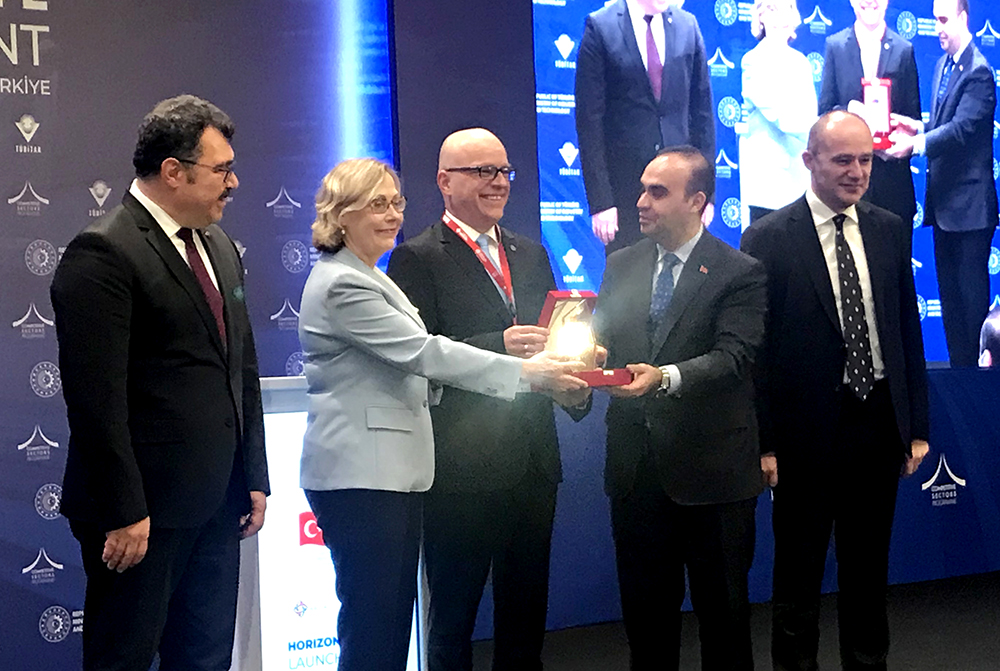 During the event, awards were presented to 29 Turkey-based coordinators of Horizon 2020 projects, among them Asst. Prof. Lutz Peschke of the Department of Communication and Design.
Dr. Peschke received his award for coordinating the Horizon 2020 project PandeVITA. The project's goal is to promote a more efficient transfer of knowledge, at the global level, among scientists, members of the public, government officials and other actors in the political and economic spheres during pandemic-related crises through the development of a platform that includes a smartphone app.
At the award ceremony, Turkish Minister of Industry and Technology Mustafa Varank and EU Commissioner for Innovation, Research, Culture, Education and Youth Mariya Gabriel gave opening remarks in which they praised the activities of the Horizon project coordinators. TÜBİTAK President Hasan Mandal, European Commission Deputy Director-General for DG Research and Innovation Signe Ratso, Turkish Vice Minister for Industry and Technology Mehmet Fatih Kacır and Ministry of Foreign Affairs Directorate for EU Affairs Director-General for Financial Cooperation and Project Implementation Bülent Özcan presented Dr. Peschke's award. The PandeVITA consortium consists of seven partners from five countries: Bilkent University and Ankara Yıldırım Beyazıt University in Ankara, Turkey; VTT Technical Research Centre of Finland Ltd. in Oulu, Finland; Open Evidence in Barcelona, Spain; iserundschmidt GmbH in Bonn, Germany; Universidad Politécnica de Madrid, in Spain; and the European Alliance for Medical and Biological Engineering and Science in Leuven, Belgium.
The Finnish partner VTT and Bilkent have developed a contact tracing app that will be tested in April by students at Bilkent and Tilburg University in the Netherlands. The results of the project will be published online at www.pandevita.eu