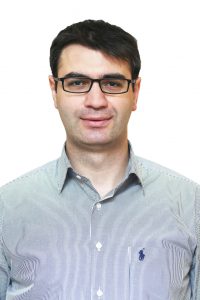 Asst. Prof. Selim Hanay of the Department of Mechanical Engineering and the Institute of Materials Science and Nanotechnology (UNAM) recently received two awards, one from the Scientific and Technical Research Council of Turkey (TÜBİTAK), and the other from the Institute of Electrical and Electronics Engineers (IEEE) Turkey Section.
TÜBİTAK gives awards every year to encourage researchers who have made significant contributions to science at an international level. Dr. Hanay received an Incentive Award, presented for his work on the physics of nanomechanical systems.
He also received one of the IEEE Turkey Section's 2021 Research Incentive Awards in recognition of his contributions to sensor technologies based on nanoelectromechanical systems and microwave resonators. The section gives its Research Incentive Awards to faculty members who reside in Turkey, finished their PhD studies no more than 10 years ago, have gained distinction through their scientific activities and contributions to their field, and have conducted most of their research work in Turkey.