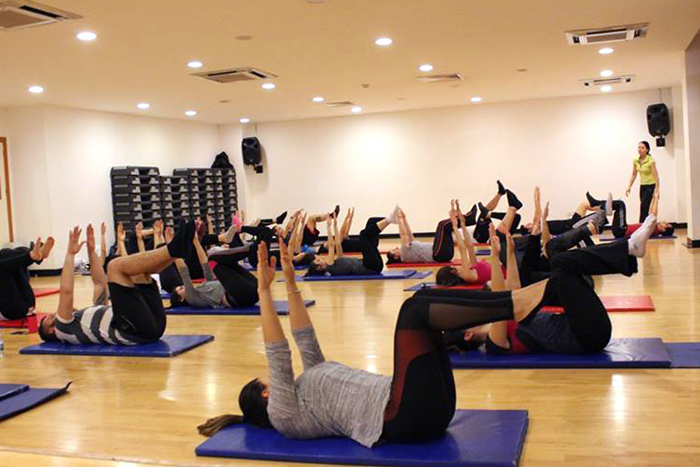 Group Exercise Programs
Dormitories Sports Hall
Monday
17:40 – 18:30 Zumba
18:40 – 19:30 Pilates
19:40 – 20:10 Crunch
Tuesday
16:40 – 17:30 Zumba
17:40 – 18:40 Strong by Zumba
18:50 – 19:40 H.A.T. Taebo
Wednesday
15:40 – 16:30 Pilates
16:40 – 17:30 Pound Fit
17:40 – 18:30 Stretching
18:40 – 19:30 Leg Workout
Thursday
16:40 – 17:30 Zumba
17:40 – 18:30 Pilates
18:40 – 19:30 Zumba
19:40 – 20:30 Pilates
Friday
15:40 – 16:30 Pilates
16:40 – 17:40 Strong by Zumba
17:45 – 18:15 Crunch
Saturday
10:40 – 11:30 Zumba
11:40 – 12:30 Crunch & Leg Workout
Main Sports Hall
Monday
12:00 – 12:50 Pilates (Beginner)
12:00 – 12:50 Yoga (Advanced)
13:40 – 14:30 Barpilates
13:40 – 14:30 Yin Yoga & Meditasyon
15:40 – 16:30 Yoga (Beginner)
17:40 – 18:30 Zumba
18:40 – 19:30 Pilates with Stretching
Tuesday
12:00 – 12:50 Yoga (Beginner)
12:00 – 12:50 Pilates (Advanced)
15:40 – 16:40 Akro Yoga
17:45 – 18:30 Pound Fit
Wednesday
12:00 – 12:50 Stretching
12:00 – 12:50 Yoga (Advanced)
13:40 – 14:30 Jungle Move
15:40 – 16:30 Yoga (Beginner)
17:40 – 18:30 Yoga (Advenced)
18:40 – 19:30 Stretching
19:40 – 20:30 Leg Workout
Thursday
12:00 – 12:50 Yoga (Beginner)
12:00 – 12:50 Pilates (Advanced)
15:40 – 16:40 Akro Yoga
16:45 – 17:45 Strong by Zumba
17:50 – 18:30 Poundfit
Friday
12:00 – 12:50 Pilates (Beginner)
12:00 – 12:50 Yoga (Advanced)
13:40 – 14:30 Barpilates
13:40 – 14:30 Yin Yoga Meditasyon
15: 40 – 16:30 Yoga (Beginner)
17:40 – 18:30 Zumba
18:40 – 19:30 Pilates
East Sports Hall
Tuesday: 16:30-17:15 Zumba Fitness
Thursday: 16:30-17:15 Zumba Fitness
Description of Programs
ABS & GYMBALL: In this Class gymball exercise balls are used to maintain a good body posture and you will also make your body muscles, especially your abdominal muscles much more thighter and stronger
ACRO YOGA: Acro yoga is an interactive way of Yoga combined with dynamic acrobatics and Thai massage. During yoga students are required to practice in groups of 3. It is a playful approach for students to connect and trust each other in a warm environment.
BARRE PILATES: Classic ballet techniques combine with principles of pilates to form a perfect full body workout. This lesson, which is done to music, strengthens spine and upper back muscles as well as the entire lower body, opens chest muscles, and brings movement capability to its maximum level. Ballet bar and other support equipment (elastic bands, small pilates ball, etc…) is used.
CRUNCH: A specific workout program for abdominal muscles, as it improves the strength and tone of your muscles.
HATHA YOGA: Through breathing exercises, relaxation moves and meditation, this yoga class improves posture, harmonizes every part of your being and helps maintain a physically and mentally balanced life.
JUNGLE MOVE: This lesson is not what you may think. It is not just a lesson of imitating animals, but using nature as the foundation for movement. Sometimes the flexibility of a cat and sometimes the strength of a tree, the body can be managed like a symphony. A lesson that requires maximum physical effort, but is at the same time a lot of fun.
LEG WORKOUT: This lesson was designed to develop a strong lower body. Using the body's own weight, the entire legs and hips are worked out to high tempo music.
PRANAYAMA and MEDITATION: Pranayama means "unobstructed breathing". In this class we are going to learn and use different breathing practices (pranayama techniques) in order to improve our respiratory health and overall well-being. Through these practices we encourage a more balanced way of breathing throughout the day, a more concentrated mind, and a healthier body.
PILATES: Pilates is a system of physical and mental conditioning that can enhance your physical strength, flexibility, and coordination as well as reduce stress, improve mental focus, and foster an improved sense of well-being.  Pilates is for everyone, but  especially those with impaired posture.
POUND FIT: From the combination of yoga and pilates comes a new generation of cardio workout. A whole body workout using drum sticks and featuring energetic music and rhythm that is appropriate for whole body types. Join in and become part of the rhythm, Release your stress in a fun, energetic new workout experience.
STRETCHING: Stretching is a workout to build muscle and joint movement capability, to improve muscle elasticity, and to reduce the risk of injury, particularly after sports activities. No workout is truly complete without stretching. Stretching prevents muscle cramps, injuries, and improves healing. For relaxing the body and the mind, and to complete strength training, stretching is a workout that cannot be skipped.
STRONG by ZUMBA: STRONG by Zumba is effectively a high intensity workout that has put a unique spin on challenging exercises by syncing the moves to music
TAE-BO: This program uses the motions of martial arts at a rapid pace designed to promote fitness.
YİN YOGA: Yin Yoga is a quiet, simple practice of mostly seated asana (yoga postures) with long holds and suitable for almost all levels of students. It is a perfect complement to the dynamic and muscular (yang) styles of yoga and other exercises that emphasizes internal heat, and the lengthening and contracting of our muscles. Yin Yoga generally targets the connective tissues in the body as well as internal organs. Long held poses allow the energy (chi/qi/prana) to flow freely through meridians. Yin yoga and mindfulness meditation class consists of a balanced practice of yin poses and mindfulness based approach to Meditation 101. You will learn how to bring mindfulness both to your body and mind during yin poses and mediation postures.
ZUMBA FITNESS: Zumba Fitness combines fast and slow rhythms that tone and sculpt the body using an aerobic / fitness approach to achieve a unique blended balance of cardio and muscle – toning benefits.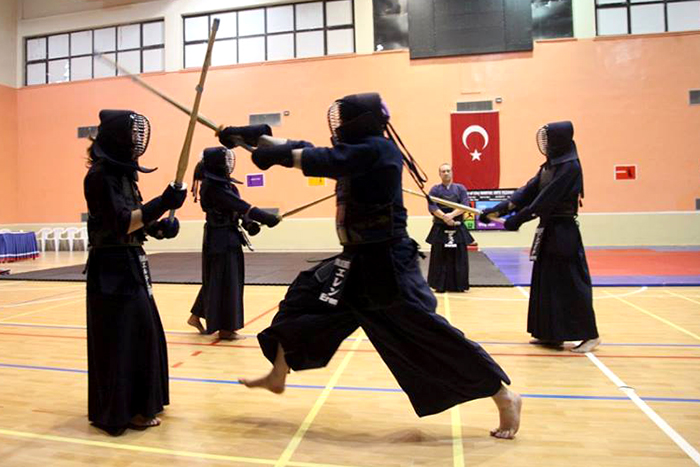 Other Sports Programs
AIKIDO
(Dormitories  Sports Hall)
Thuesday.Friday: 7:30 – 9:00 p.m.
BADMINTON
(main Campus Sports Hall)
Sunday: 12:00 – 1:30 p.m.  (Main Campus Sports Hall)
Wednesday: 7:00 – 8:30 p.m.  (East Campus Sports Hall)
BALLROOM AND LATIN DANCING
(Dormitories  Sports Hall)
Tuesday: 7:40 – 8:30 p.m. Salsa (Beginner)
08:40 – 9:30 p.m.  Argentine Tango (Beginner)
9:40 – 10:30 p.m. Argentinen Tango (Intermediate)
FENCING
(Dormitories  Sports Hall)
Tuesday: 6:00 – 7:30 p.m. (Beginner)
Thursday: 6:00 – 7:30 p.m. (Intermediate – Advanced)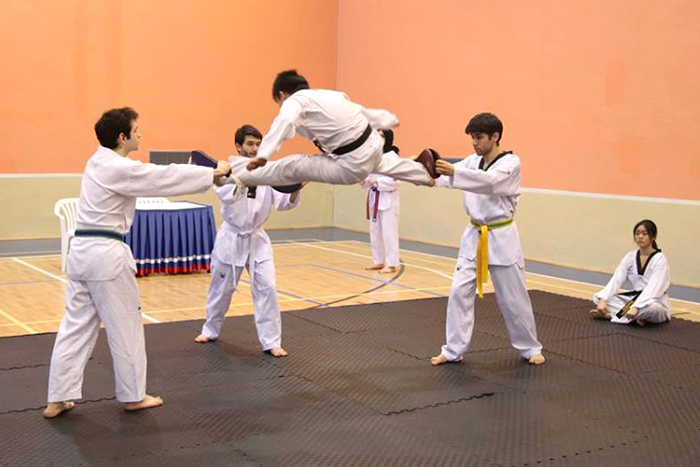 FIT-BOXING
(Main Campus Sports Hall)
Monday, Wednesday, 7:40 – 9:00 p.m. (Beginner – Intermediate)
JUDO
(Dormitories  Sports Hall)
Wednesday, 7:30 – 9:00 p.m.,
Firiday, 5:30 – 7:00 p.m.
KARATE
(Dormitories  Sports Hall)
Monday: 5:30 – 7:00 p.m.
Thursday, 7:30 – 9:00 p.m.
KENDO
(Main Campus Sports Hall)
Tuesday, 7:30 – 9:00 p.m.
Thursday, 6:45 – 8:15 p.m.
SQUASH



Groups: Minimum of 6 and maximum of 8 students.
Fee: 110 TL / one and a half hours, once a week, (Dormitories Sports Hall)
Rackets and balls will be provided by Sports Center.
TABLE TENNIS
Monday, Wednesday: 5:30 – 7:00 p.m.  (Intermediate)
Wednesday: 4:00 – 5:30 p.m.  (Beginner) (Main Campus Sports Hall)
Tuesday: 4:00 – 5:30 p.m.  (Beginner) (East Campus Sports Hall)
TAEKWONDO
(Dormitories  Sports Hall)
Monday, Wednesday: 5:30 – 7:00 p.m.
TENNIS



According to student's requests, additional course hours can be added
Groups: Minimum of 8 and maximum of 10 students.
Place: Indoor Tennis Courts
Participants should bring their own tennis rackets. Balls will be provided by Sports Center.
WING-TSUN
(Main Campus Sports Hall)
Monday, Wednesday: 5:30 – 7:00 p.m.
Fee: 110 TL (two days a week) – Ballroom and Latin Dancing: 170 TL (one day a week)
Note: Undergraduate students can participate in programs free of charge.